After discovering the 1st part of ou expert's interview on consumer habits changing, Here is the 2nd part (out of 4) of the interview of our Beauty Ifop Asia expert, on Beauty Companies in China and beauty consumer demands. The following findings are based on Ifop's research experience in beauty category and social listening on various online channels (e.g. social media, shopping sites, etc.), and they are mainly reflective about Chinese women in higher tier city.
How are beauty companies responding to the new consumer demands? What kinds of products are they bringing to market that are proving successful?
1 – More foreign brands are considering e-commerce platform as first entrance to break through Chinese market.
Some western, Japanese and Korean makeup brands, and some fast-fashion niche beauty brands have opened Tmall overseas flagship stores and achieved good sales (e.g. Fenty Beauty, 3CE, etc.).
L'Oreal's 3CE online flagship store opened in February 2019 for trial operation on Tmall, and its single-day sales exceeded 14 million RMB on Tmall Super Fan Day.

2 – Accelerate product upgrade and improvement (including but not limited to ingredients, packaging, format, and concept)
With the help of fast-growing wave of social media and e-commerce, brands could easily track with consumers' behavior and feedback. In the meantime, consumers are well educated and quickly absorbing new knowledge. Therefore, brands need to keep up with the market pace and offer timely response through product upgrading and technical development.
Premium brands have led the way in the new formatted launches that have appeared in the market, as they have looked to tap into the upmarket shift in demand. Lancôme released Teint Idole Ultra Wear Valueset, a new stick foundation series, providing eight different colours for consumers to choose from.
3 – Create emotional and cultural resonance with consumers
Simple cross-industry collaboration is not enough to be standing out in competition. In order to trigger consumers' interest and improve brand loyalty, brands have put efforts on integrating cultural and trendy elements (e.g. Chinese classic fashion, palace concept, entertainment IP, etc.)to build emotional connections with consumers.
Huaxizi launched limited edition for new year, named "百鸟朝凤" (birds pay homage to a phoenix), which is from Chinese traditional fairy tale, meaning happiness, joy and pursuing beauty of nature. The eyeshadow palette has delicate embossed patterns.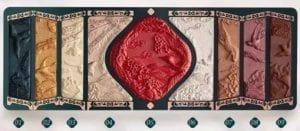 4 – More interactive and creative content and format when collaborating with KOLs
Consumers are exposing to beauty information in more diverse forms and richer content from KOLs, for example, plog, vlog, live streaming, product sharing, tutorials, and so on. Interesting and immersive collaboration with KOLs could contribute to increase awareness and boost sales.
5 – Products claiming on new technology development attracts consumers' attention
On the basis of ingredient-savvy, consumers are paying more attention to the scientification of skincare. They are eager to learn as much as possible about their own skin in order to obtain customized and targeted skin care products. Bio-chemical ingredients and high-tech beauty tools are raising public attention.
6 – Professional on functionality on specific product or product line
As consumers are more sophisticated on product choice, they are refining each step of skincare routine to focus on targeted functions. Consumers are no longer looking for all-in-one products to satisfy skincare needs.
SkinCeuticals has been popular recently due to emphasis on targeted efficacy for each product type (color correction, reducing fine lines, whitening, removing spots, and so on). Consumers are educated to add on different serums in usage for stronger and more accurate solution.